A Free eBook for You!
How you, your church, or your Christian organization could reach more people, and disciple others more immediately, with less effort…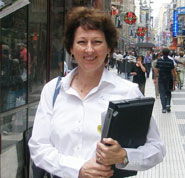 I decided to write an eBook. It's short, just 30 pages. And, of course, free.
I think it might be helpful to any church or Christian organization…or you!
There are ways that churches and organizations can extend their ministries, reach more people, build more disciples…just by a few tweaks in their current approach.
And they might find greater results, with less effort.
Here it is for you. The Ripple Effect.
https://www.everystudent.info/r2/rippleeffect.html
Please feel free to encourage others to get it.
Thanks! Happy reading.


Marilyn Adamson
director of StartingwithGod.com
EveryStudent.com, EveryPerson.com, EveryStudent.info