An Amazing Report for You
How God is using EveryStudent.com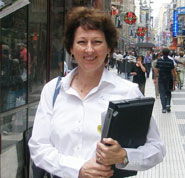 Today I want to invite you to a behind-the-scenes look at what God is accomplishing through EveryStudent.com.
EveryStudent.com seeks to persuade, to encourage others to consider what God is offering them. But it is God who speaks to their hearts.
We offer answers to their questions about life and God. But it is God who makes it clear to them.
EveryStudent.com is now in 47 languages. Within the last 12 months, a little over 30 million people came to the site.
If you'll scroll down the home page of EveryStudent.com, you'll see a bubble with different languages, leading to this page that lists all 47 languages (you might want to send someone to one of these):
https://www.everystudent.com/menus/intl.html
Thank you for your part in sharing with nonbelievers how they could get answers to their questions and perhaps begin a relationship with God by going to EveryStudent.com.
Now here is the part that's even more exciting.
Each day, more than 1,000 people told us they asked Jesus into their lives while on the site.
Nearly half of them began to grow right away, by immediately signing up for The Spiritual Starter Kit email series, or by going directly to https://StartingwithGod.com.
I've been told that Americans are always talking in numbers. And it seems odd to others from other cultures. So I'm acting like a typical American here!
However, my heart is touched not by the numbers, but by the people's lives behind it.
For example, this week, I heard from a man from Uganda who signed up for the Gospel of John email series.
He said, "I am now believing and getting fully connected to this new life. I am so amazed by this book of John, because I never knew it contained all this wonderful message. It is most amazing to see how Jesus revealed himself to us."
And this is from a new believer who signed up for The Spiritual Starter Kit. "It has helped me tremendously in building my relationship with the Lord. The bible is a bit intimidating for someone who didn't grow up around it and your kit is making it easier to digest and really helped me find a good starting place."
And this from another new believer. "i started my relationship with God, My Life Is
now changed completely."
Jesus changes our lives. 2Cor 5:17,18 says, "if anyone is in Christ, he is a new creation. The old has passed away; behold, the new has come. All this is from God, who through Christ reconciled us to himself and give us the ministry of reconciliation."
One easy way we have of reaching many people is by sharing with them in social media.
Right now, ask God to guide you, and pick one of these to share in your Facebook, Twitter, or wherever:
https://www.everystudent.info/fb/twitter.html


Marilyn Adamson
director of StartingwithGod.com
EveryStudent.com, EveryPerson.com, EveryStudent.info