What YOU Are Doing
The many ways you are helping people find God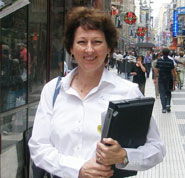 Years ago, I was in a meeting led by a very strong, decisive director named Stan. I liked him because he led with clarity. We didn't spend too many hours picking over small points that did not matter. He kept us moving.
One day, about 15 of us were seated at a long, rectangular table in a formal, office conference room.
Stan was clearly frustrated and let loose on a long rant about what he wanted to see done, and how results were not coming as quickly as he would like. You could feel the tension in the room rise the longer he talked. When he finally took a breath and paused, one of the men at the table spoke up and said…
"Well, Stan, enough about you. Let's talk about me."
And everyone burst into laughter, including Stan. (Though a strong leader, he also had a kind heart.)
In the last three posts, I've described ways that God has been clear in his direction, in leading me. I hope it built your faith in God and what he can do! At the same time…I'm WAY tired of talking about me.
Let's talk about YOU!! It is very possible that…

1. YOU ARE REACHING PEOPLE IN CONVERSATIONS – Perhaps you have ventured into conversations with friends or relatives about God. You have encouraged them to visit EveryStudent.com to further explore their questions and move toward faith in Jesus. Good for you!!
It is my guess that you have felt greater freedom in talking about God, because if they ask tough questions, you know you can quickly help them by encouraging them to visit EveryStudent.com.
I know that I personally will start conversations, knowing I can significantly help someone, even if I only have a few minutes with them.
People are not put off by hearing about a website. It's safe. It's private. They can be honest about their thoughts and questions. Defenses can come down. It's the perfect environment for God to speak to them.
Literally millions of people have gone to EveryStudent.com, just from someone handing them a business card, or a flier, or telling them about the site.
YOU might have contributed to that!!
(If you want some help in how you can start conversations about God, please see: https://www.everystudent.info/r/conversations.html)

2. PERHAPS YOU HAVE SHARED IN SOCIAL MEDIA – I know that many are sharing articles and videos in your social media. SOOO great! I think of this as sowing broadly, like Jesus talked about. Some of the seed falls on rocky ground, some in weeds, some along the path…but some in good soil. Jesus knows people's hearts. Our friends in our social networks are our field. Let's so broadly!!
Again, millions of people have come to EveryStudent.com via Facebook, WhatsApp, Twitter, Instagram, etc.

3. YOU HAVE INCLUDED EVERYSTUDENT.COM IN YOUR EMAIL SIGNATURE, PERSONAL OR CHURCH WEBSITE, BLOG – Others have visited EveryStudent.com by seeing a link to EveryStudent.com that you put there.
"To explore questions about life or God, see https://EveryStudent.com."
Here is where you can grab our logo: https://www.everystudent.com/logo/

All of this adds up to some of the ways you have helped make Jesus findable to hundreds of thousands of people!! It has led to many people beginning a relationship with God.
If you ever want to see all the results from all of EveryStudent.com (for all 45+ languages it is in), we post those results every month here: https://www.everystudent.info/r/monthly.html
I praise God for your efforts, your heart for others to know Jesus.


Marilyn Adamson
director of StartingwithGod.com
EveryStudent.com, EveryPerson.com, EveryStudent.info