Encouragement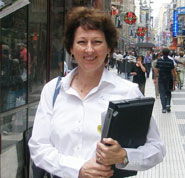 Hi. Look for a new post every Monday and Thursday. Each post will be its own page, making it easy to share that post (that link) with others.
Hope you enjoy it,
Marilyn Adamson
director of StartingwithGod.com
(Most recent post is on top.)
Our role in living out the Christian life.
The many ways you are helping people find God
How God can bring you in contact with the right people to fulfill his purposes.
A personal example of how God can lead.
An example of how God can guide, when you ask him.
How God is using EveryStudent.com
In marriage, or in any relationship, God encourages us to be truthful and kind in our communication.
We might not know everything about God, but what we DO know is enough to trust him.
How God worked through a former Muslim to reach hundreds, thousands of people with the message of Jesus' love.
A fun way to possibly help hundreds of people find God.
How God brings solutions to seemingly dismal situations.
When you feel down or stressed, this might help in breaking the hold of negative emotions.
Forgiveness is not easy. It costs us. It cost Jesus. Here's how we can forgive.
What God is accomplishing through EveryStudent.com
An encouraging account of what it means to live by faith, in light of frequent terrorist attacks.
God tells us how to approach our problems and what God will do.
How to help atheists believe in God.
How terrorist groups are causing Muslims to question Islam.
Nick Vujicic talks about God's love from a very unique perspective.
What we gain from reading the Bible.
Here's how God can speak to you and help you see your life's challenges in their proper light.
Here's a simple Bible study approach that can be used with any section of Scripture.
The Book of Job shows us something remarkable about our relationship with God.
Many Christians are still trying to minister to others in traditional ways that are not working…
When our thinking is skewed, in error, and we've veered away from God's ways, here is how God resets us…
How you, your church, or your Christian organization could reach more people, and disciple others more immediately, with less effort…
The reason God's love sent Jesus to the world, is because this is how God views humans…
Are we helping people in a way that they want to be helped? Here's how to stay current in our digital culture…
In the midst of today's challenges, God invites us to not worry, but instead trust him. See how…
There are likely people in your life right now who could be helped by one of these…
Jesus is far more gracious than we will ever deserve. See what this says about God's faithfulness to us…
This is a very simple way to reach many people. Especially good to do with a few friends.
To help other people know God, we need to be honest about what God has actually done in our lives…
Here's a simple and polite way to share the gospel broadly. Could be exciting for you!
There is a pattern, a clear reason why Jesus behaved as he did with individuals…
How a website opens new doors of conversations about God.
Looking for a simple, motivating way to read the Bible, wanting God to speak to you? Here you go…
It's important to know that God loves you, and why he does. See what the Bible says about God's great love for us…
God will give us direction in our lives if we ask him and trust him. Here's a personal example of how clearly God can guide…