By Marilyn Adamson

One evening I returned to my dorm room to find a good friend in tears. She said, "I've been looking for you everywhere. I want to become a Christian. What do I do?" I had NO idea what to tell her. I had been a Christian about six months then. And I had talked to her about Jesus and why I was so glad to know Him. But I had not thought about explaining to someone else how they could begin a relationship with God. I really didn't know what to say.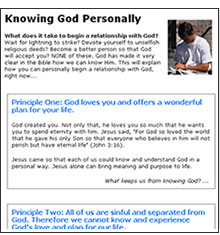 Here are some easy ways to explain to someone how they can start a relationship with God. The following link is to a very clear presentation of what God is offering someone and exactly how they can begin a relationship with Christ: Knowing God Personally. It's found on EveryStudent.com. You could email the page to a friend, or click on the "Share This" icon and message it to them on Facebook. Just look for this:
Or, you could print it out and hand it to someone. Or you could email it to a friend. But better yet, if they are willing, just sit down with them and ask if you could show it to them. Literally millions of people have been led into a relationship with Christ by Christians taking the time to read this out loud to someone. By presenting it personally to someone, you are able to answer their questions and communicate your desire for them to understand.
You could say, "A while ago, I found out how I could have a relationship with God, and I'm so grateful I do. I was wondering if anyone has ever shared with you how you could begin a personal relationship with God? I'd love to show you. May I?" And then you can very simply, read this aloud with them…straight through it.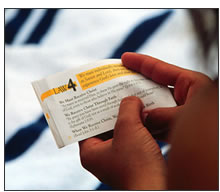 If you'd like to purchase some smaller printed copies of this presentation of the gospel, you can do so here: Cru. Sometimes I will hand this booklet to someone as a summary to our conversation. I might say, "A lot of people would like to know God in a personal way if they just knew how. I wanted to give you this booklet that explains how you can begin a relationship with God, if you ever decide that you'd like to."
1 Peter 3:15 says, "Always be prepared to give an answer to everyone who asks you to give the reason for the hope that you have. But do this with gentleness and respect…" This is a great verse that summarizes how we should go about our communication with others about Christ. Be ready and willing to tell someone why you have hope, but do so with gentleness and respect. If they ask you a question you don't know how to answer, just tell them you don't know, but that you will try to find an answer for them. You can also point them to EveryStudent.com. It covers a lot of topics for those who have yet to receive Christ.
Ask God to bring to mind people you know who have yet to receive Christ. As He does, pray for them by name, that God would increase their desire to know Him, and that He would bring the gospel to them in some way. God might ask you to talk to them at some point.
As you begin to talk to someone about God, it's a great idea to quickly talk to God first. "God, I pray that you would speak through me, that you would love this person through me. Guide me by your Spirit, and I rely on you for the words." (Remember, you can talk to God without closing your eyes or praying out loud – and this would be a good time to do neither one.)
Now you have a presentation of the gospel that you can use. You now know to pray and rest in God to love them through you. And you know to rely on the Holy Spirit to speak through you. Jesus said, "I am with you always." (Matthew 28:18-20) It will be exciting to see what God does through you!
Other ideas:
Produce a 2 or 3 minute video, creatively presenting what you've discovered about God, that you'd like others to know about him. Post it on YouTube.com.
Post articles from everystudent.com., to your Facebook profile page, by clicking on the "Share This" icon.
Blog about your new relationship with God. Include Scripture that God is teaching you, and ways he's working in your life. Be honest about some of the challenges you face. Include a link to EveryStudent.com.