#10 – Learning More about Jesus
Hi,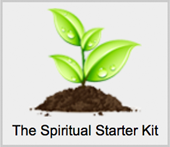 I'm so glad you are going through The Spiritual Starter Kit.
The best way to grow to know Jesus better is to see his life, what he said, how he interacted with people, what he cared about.
A study through the Gospel of John helps you do that. I created another series for this reason. This one might be the most valuable because it will help you know God better.
The Gospel of John is loaded with truths about God and how he views your relationship with him.
I'd like you to join me in a study of the Gospel of John, for two reasons:
1. To help you know Jesus better. 2. To show you how to read and study the Bible on your own – useful for the rest of your life.
This is purely for your own enjoyment. It's free. No assignments to turn in or anything. We won't cover every sentence in John…just hitting the highlights.
As always, you can unsubscribe anytime. That option will be at the bottom of every email.
Just click the link below to enter your name and email address. The first study will be in your mailbox in a couple of minutes.
http://www.everystudent.com/knowingGod.html
That we might know him better! I think you will thoroughly enjoy this!


Marilyn Adamson
director of Everystudent.com
and startingwithGod.com