#1 – How to Talk about God – an easy way
Hi,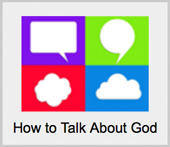 Thank you for signing up for "How to Talk about God."
This series will give you some simple, fun ways to talk to others about Jesus.
What would you say is your biggest hurdle in talking to someone about God?
Maybe you're a little nervous about how they'll respond. What if they push back? What if they ask some really tough (and legitimate) question?
Like…
How do you *know* God exists?
How do you explain all the suffering in the world?
I've prayed. God doesn't answer MY prayers.
Why does it have to be Jesus, and not Buddha or Allah?
I'm gay. I guess that means I'm going to hell. Right?
I'd like you to consider EveryStudent.com your safety net. The site takes on those hard questions, and delivers well-researched, respectful answers.
It helps someone understand who God is and what it might be like to know him.
This means that you can now freely start a conversation and not worry about what the person might ask. You can always say…
"That's a great question. There's a website that probably has an answer to your question. EveryStudent.com. If not, email them and someone will personally email you a reply."
Write down "EveryStudent.com" for them. Or message it to them.
The person will likely say? "Thanks. That would be great. Thank you."
No one is ever annoyed hearing about a website. It feels totally safe. And they're grateful that you would serve them like that.
I'd like you to become aware of what's on https://www.EveryStudent.com.
Take just a few minutes right now and click on some of the main section headings found at the top of the site. Read/watch whatever interests you.
My next email…how squeaky-clean does your lifestyle need to be, before you can talk to others about God?
(These emails will come to you every 5 days. If one doesn't show up, check your junk email box. Sometimes they land there.)
I think you're really going to like this series. Thanks again for signing up!


Marilyn Adamson
director of EveryStudent.com
and StartingwithGod.com
p.s. Important: Bookmark this page right now, so you can find this series again and go through all the messages.