Skip the Stress #5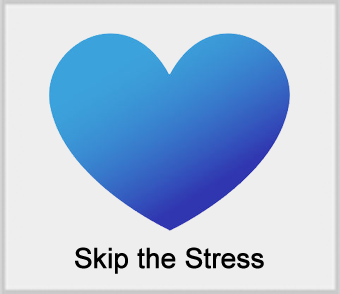 Hi,
I grew up in a particular church background that capitalized on guilt. It was their specialty.
In fact, I have a true story for you that you'll never forget.
Picture scrawny second-graders. Sitting quietly at their desks that are twice their size. Feet dangling off the floor.
The teacher wants to make sure these second-graders don't waste any paper. They are instructed to write on both sides. And in the margins. Even the very top margin.
"Thou shalt not waste." And she is dead serious about this.
To drive home her point, the teacher actually said, "The paper you waste, is the paper God will use to burn you in hell."
I told you they were experts at guilt. (Yes, I agree. Today, there would be a law suit.)
Well, let me ask you. What kind of commands put YOU under the pile? What happens when you do, or say, or think something that you know doesn't please God?
Do you carry that guilt? Do you beat yourself up?
One of the most important truths for us to catch is this: Jesus died for all of our sins. He was tortured, whipped, nailed to a cross and died in our place, paying for all our sins.
Sometimes we have a hard time accepting it, because we think "That's not fair." You're right. No, it's not! But it is true.
This article will explain what to do with guilt when you find yourself lugging it around. Discouraging you.
http://www.startingwithgod.com/knowing-god/holy-spirit
If you have any questions, please email us here:
http://www.everystudent.com/contact.php
Next email will contain a short video, reviewing how to maintain a close connection with God.
Talk to you soon,



Marilyn Adamson
director of Everystudent.com
and startingwithGod.com